Parliament needs to move to more virtual working
MPs might be sitting greater distances from each other in the Commons, but a cross-party group led by Caroline Lucas has suggested a more drastic social-distancing effort – a virtual parliament, using video debates and electronic voting.
Around two-dozen MPs from Labour, the Lib Dems, SNP, Plaid and SDLP, as well as Lucas, the sole Green MP, and a smaller number of peers, having written to the Speakers of both the Commons and Lords saying this would allow the government to be held to account without putting people together. In their letter they say:
"For as long as MPs and peers continue to sit at Westminster, workers including those in security, cleaning staff, canteen staff, clerks and assistants are all being put at increased risk of catching, and spreading, Covid-19," the letter notes, saying MPs are a particular risk in terms of spreading the virus to their constituencies.
Video debates could be streamed via the Parliament TV website, with voting done electronically, the letter suggests.
Lucas, who was due to raise the idea in the Commons during a debate on Monday (today) on the government's emergency coronavirus bill, said parliament meeting as usual would be "completely failing to set an example to the rest of the country". She said: 
Judging from what we saw over the weekend, the message about social distancing clearly isn't getting through. So for parliament to carry on sitting as normal just reinforces the sense that it can be business as usual for the vast majority of people and industries.
Report : Guardian news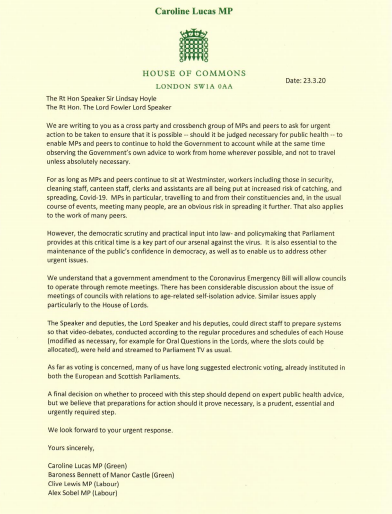 One to think about : What is the betting that parliament, in its current form, may be on the way out sooner than most people imagine?
---