"Disaster is a lot like revolution: disruption and improvisation, and an exhilarating sense that anything is possible"
I must confess that I knew little about US writer Rebecca Solnit before this morning but, prompted by comedian Josie Long mentioning her name on Radio 4 in connection with influential books that look at alternative approaches to activism, I checked out her work. For starters, here are her top ten tips on how to be a writer.
San Francisco-based writer, historian, and activist Rebecca Solnit is a world-renowned feminist and environmental activist and the author of seventeen books about geography, community, art, politics, hope, and feminism and the recipient of many awards, including the Lannan Literary Award, and the National Book Critics Circle Award (for River of Shadows; two other books of hers also were nominated for the prize in other years).
A product of the California public education system from kindergarten to graduate school and frequent contributor to the political site Tomdispatch.com, she is a contributing editor to Harper's, where she is the first woman to regularly write the Easy Chair column (founded in 1851).
Solnit's activist manifesto Hope in the Dark was published in 2004, but an updated third edition published earlier this year sold out in the US after the Trump poll result, and digital downloads have topped 33,000, reports Publishers Weekly. Her 2014 bestseller Men Explain Things To Me became a global bestseller and March 2017 will see her release a sequel, The Mother of All Questions, a book of 11 essays that examine rape culture, misogyny in the literary canon and the gender binary in the recent history of jokes about assaults on women.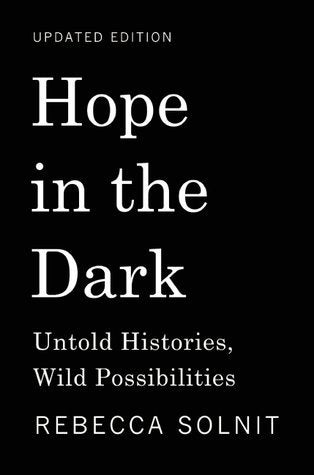 Believer magazine observes "Throughout her career, Solnit's emphasis has been on the political qualities of art and the environment, the artistic elements of nature and politics, and the meanderings of humans in and out of those combinations."
With Hope in the Dark (2005), Rebecca Solnit made a radical case for hope as a commitment to act in a world whose future remains uncertain and unknowable. Drawing on her decades of activism and a wide reading of environmental, cultural, and political history, Solnit argues that radicals have a long, neglected history of transformative victories, that the positive consequences of our acts are not always immediately seen, directly knowable, or even measurable, and that pessimism and despair rest on an unwarranted confidence about what is going to happen next.
An updated version of the book has just been made available, with Guardian bookshop summarising the work as follows " At a time when political, environmental and social gloom can seem overpowering, this remarkable work offers a lucid, affirmative and well-argued case for hope. This exquisite work traces a history of activism and social change over the past five decades - from the fall of the Berlin Wall, to the worldwide marches against the war in Iraq. Hope in the Dark is a paean to optimism in the uncertainty of the twenty-first century. Tracing the footsteps of the last century's thinkers - including Woolf, Gandhi, Borges, Benjamin and Havel - Solnit conjures a timeless vision of cause and effect that will light our way through the dark, and lead us to profound and effective political engagement."
Caroline Lucas, reviewing the original book in The Guardian, noted "This is the ultimate "feel-good" book for exhausted campaigners and activists who, while remaining convinced of the importance of their work, can't help occasionally asking themselves whether they really are making a difference. Author and activist Rebecca Solnit's answer is a triumphant "yes". She celebrates a history of political engagement over the past five decades and finds strong grounds for optimism, albeit sometimes in rather unexpected places (the invention of Viagra, she points out, has taken some of the heat off endangered species prized for their supposed aphrodisiac qualities)."
Her Guardian essay last summer brings us up to date (though a lot has happened since then, notably Trump). In this piece, her rallying call concludes "Together we are very powerful, and we have a seldom-told, seldom-remembered history of victories and transformations that can give us confidence that, yes, we can change the world because we have many times before. You row forward looking back, and telling this history is part of helping people navigate toward the future. We need a litany, a rosary, a sutra, a mantra, a war chant of our victories. The past is set in daylight, and it can become a torch we can carry into the night that is the future."